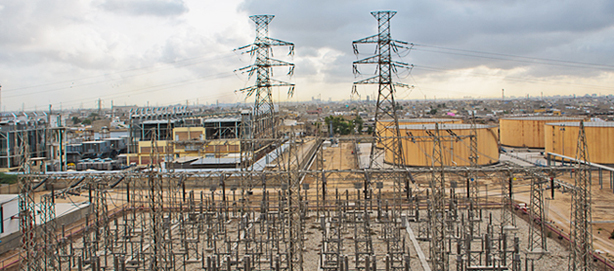 GUL AHMED ENERGY LIMITED AT GLANCE
Gul Ahmed Energy Limited, a 136.17 MW private power plant at Korangi Industrial Area of Karachi. The project is a joint venture of Gul Ahmed Group, Toyota Tsusho Corporation of Japan, International Finance Corporation (IFC) and Wartsila Diesel Oy of Finland.
Gul Ahmed Energy Limited is backed by "GUL AHMED GROUP" which is one of Pakistan's leading industrialist / business groups since 1948 with a much diversified portfolio of trade, manufacturing, banking, industries, businesses and investments.
Business ventures range from Finance, Energy, Beverages, Real Estate, Information Technology and Textile (the Group's main forte). The Group is involved in the manufacturing of cotton yarns, grey and finished cloth and textile made ups and is one of the leading exporters of textile products from Pakistan.
Some of the companies forming part of the Gul Ahmed Group are provided below:
Gul Ahmed Wind Power Limited
Metro Power Company Limited
Gul Ahmed Textiles Mills Limited
Pakistan Beverage Limited
Yassir Distributors (Pvt.) Limited
National Foods Limited
Haji Ali Mohammed Foundation
Gul Ahmed International Ltd (FZC) UAE
Pakola Products Limited
Pakistan Business Council
Excel Insurance Co. Limited
Globe Management (Pvt) Limited
GTM Europe Ltd. – UK
Yassir Fruit Juices (Pvt) Limited
Latif Textile Mills (Pvt) Limited
Fun Product Pakistan
GML Capital (Pvt) Limited
Habib Metropolitan Bank Limited
Yassir Industries (Pvt) Limited
Safe Mix Concrete Products Limited
The power plant setup on Build, Own and Operate (BOO) basis has successfully completed 14 years of operations. The plant is maintained under an O&M contract between the company and Wartsila Pakistan (Pvt.) Ltd., a wholly owned subsidiary of Wartsila Diesel Oy, Finland (the OEM of the plant). Gul Ahmed Wind Power Limited has been setup which is 100% owned subsidiary of Gul Ahmed Energy Limited.